Does anyone else like me get irritated by misidentified portraits of historical characters?  Is it that difficult to get correct? It's quite sloppy to be honest as just a quick glance at them tells you something ain't quite right here!  It's particularly common around  16th century portraiture when in actual fact that type of art reached its zenith with wonderful artists like Holbein the Younger.
One of the most irksome for me, and from an earlier period,  is the portrait that is frequently used to depict Richard Neville 16th Earl of Warwick, known as The Kingmaker.  Lets take a look..
This is a prime example of a wrongly, really wrongly identified portrait.  I don't know who it is  but this is definitely NOT Richard Neville,  16th Earl of Warwick known as the 'Kingmaker'.
I ask you, does this resemble someone who fought in the Wars of the Roses and was dead by 1471?  Give Me Strength! There is no known contemporary portraits of Richard Neville other than the drawings of him in the Rous Roll and  a weeper on his father-in-law's tomb, Richard Beauchamp,  13th Earl of Warwick, St Mary's Warwick,  said to depict him.  None of these depict him with a beard which was not fashionable in the 15th century.  Nor did he wear anything like the costume in the offending portrait.  Warwick would not  have been seen dead in those late 16th knickerbockers.   However still this portrait is used regularly and captioned with his name. Please make it stop! groan.  And kudos to those that get it right.
Richard Neville, Earl of Warwick, known as the Kingmaker.  Drawing by Rous – who would have actually known him by sight.  Not a knickerbocker – or beard –  in sight…
Misidentified portraiture is not just limited to paintings.  It can also occur in stained glass.  Take a look at the wonderful early 16th century stained glass windows in St Mary's Church, Fairford, Gloucestershire.   In these windows are figures of the Tudor Royal family.  These include Henry VII, his wife Elizabeth of York and his mother Margaret Beaufort. All these figures closely resemble their paintings and busts .There is one included of a chubby child identified as Henry VIII as a toddler.      
Chancel, north chapel, Lady Chapel, North window, Fairford Church.  Jesus as a small boy in the temple modelled on a young angelic Henry VIII.    A good likeness between the sketch and the glass – all ok here.
However there is also a figure of an elderly churchman.  This has been identified by an 'expert' as being that of Cardinal Wosley.  This is despite the fact that when these windows were made c.1500,  Wolsey, being born in 1473 would have been  young man and not the older man portrayed.    A closer look combined with a bit of research and it can be seen 'Wosley' is in fact Cardinal Morton portrayed as the elderly man he would have been when the windows were made.  Morton was held in high regard  with the Tudors, particularly Margaret Beaufort and Henry Tudor for whom he had tirelessly laboured/plotted to enable Henry's usurpation of Richard III's throne.   I base my conclusion on comparing the face in the window to the wooden boss of Morton in Bere Regius church, Dorset.
See for yourself and decide…
Stain glass portrait in Fairford Church identified as Cardinal Wolsey.  I believe the churchman looking benignly down on the Tudor family is actually Cardinal Morton whose plotting helped get Henry VII to the throne.  
 Carved wooden boss of Morton in Bere Regius Church.  
Moving on to the Tudor Queens…teeth gritted…
The portrait below of Queen Katherine Parr is, at this very moment as you read this, being erroneously identified regularly in books and online article/searches as Lady Jane Grey or even Mary Tudor.
Katherine Parr, attributed to Master John, circa 1545.  Regularly misidentified as Lady Jane Grey. © National Portrait Gallery, London 
Casting aside the obvious and glaring fact that this is a lady who is considerably more older than Lady Jane Grey who was dead at 17,  but don't let common sense get in the way of choosing illustrations for one's book/article.    A bit of research would uncover, for comparison,  another portrait of Katherine Parr where its clear to see they are one and the same lady.   
Katherine Parr.  Unknown Artist.  National Portrait Gallery
Quite recently, thank goodness, another long held  misidentification of a Tudor queen has been rectified – this time Anne of Cleves.  A minature by Hans Holbein has  long been identified as Queen Catherine Howard despite being in the Queen's Collection, and thus you would think some investigation going into who it is supposed to represent.  It has now  been identified by art historian Franny Moyle as actually Anne of Cleves which if you compare the minature to the well known portrait of Anne is quite apparent.  Yes the minIature is of a slightly older version of Anne in English dress but still the similarities cannot be denied.  As Franny Moyles says 'The sitter's heavy eyelids and thick eyebrows bear distinct similarities to Holbein's 1539 portrait of Anne. They're the same woman.  She has this soporific expression in both paintings' .  To read this interesting article click  here. 
Portrait of Anne of Cleves by Hans Holbein.  
The Miniature long described as being a portrait of Catherine Howard but now reidentified as being a slightly older Anne of Cleves.
The sitter in this portrait below has also been named as being Queen Catherine Howard.  Now it has been renamed an unknown lady possibly from the Cromwell family.  
Portrait of an unknown lady, possibly from the Cromwell Family frequently misidentified as Catherine Howard.  Artist Hans Holbein.  Toledo Museum of Art.
The sad fact is that probably no portraits existed or have survived due to the fact Catherine was queen for such a short time it's doubtful she had time to sit for any portraits.   It's more than likely Henry VIII found portraits of his deceased/beheaded queens hanging around to remind him a tad irksome,  combined with Catherine having suffered the same fate as Anne Boleyn,  anyone owning a portrait of her may have thought it prudent to destroy it.  Why do not biographers and the like just admit to there are, as far as we know, no known portraits of Catherine.  You may as well insert a photo of Minnie Mouse….
Speaking of Anne Boleyn.  Here is the crème de la crème of misidentified portraits.  Among Holbein's beautiful drawings of members of Henry's court there is one, to be fair, labelled  Anna Bollein Queen  However, just a quick perusal and a comparison to his beautiful portrait of Queen Jane Seymour and you will see that this is one and the same lady.  
Hans Holbein's portrait of Queen Jane Seymour.  Note the weak chin..
Hans Holbein drawing said to be of Queen Anne Boleyn but clearly the same sitter as the lady in the portrait of Queen Jane Seymour.   Check out the eyes, small mouth, weak and slightly double chin. The double chin is accentuated by  both the ribbon that is tying her cap to her head and that the sitter is  looking down.
It is said that Sir John Cheke, the gentleman who years later identified the drawing as being of Anne,  also wrongly identified other portraits.  Not only did Sir John Cheke get it wrong so did 'expert' on everything Tudor, David Starkey, and John Rowlands who wrote a joint article An Old Tradition Reasserted: Holbein's Portrait of Queen Anne Boleyn.  According to Starkey the double chin in the drawing is a 'goitre' ..  yes me neither.  Perhaps he is convinced by a Nicolas Sanders, who wrote in 1586, fifty years after Anne's death, that Anne had a 'sallow complexion as if troubled by jaundice' as well as 'a projecting tooth under the upper lip…six fingers..and a large wen under her chin and therefore to hide its ugliness she wore a high dress covering her throat'(1).  
Lastly there are many portraits of Anne Boleyn most of them copies of a copy of a copy of a lost original.  This one below is perhaps the one that comes to mind, I think, for most people when they think of a portrait of Anne.
Yet wait!  Although I am less certain that I am of the portraits I have named about as being misidentified I always wonder if this portrait is not of Anne but of Henry VIII's sister, Mary.  Compare to the portrait of her with her second husband Henry Brandon.  Was the 'B' on the portrait said to be of Anne representing 'Boleyn" actually "B" for Brandon?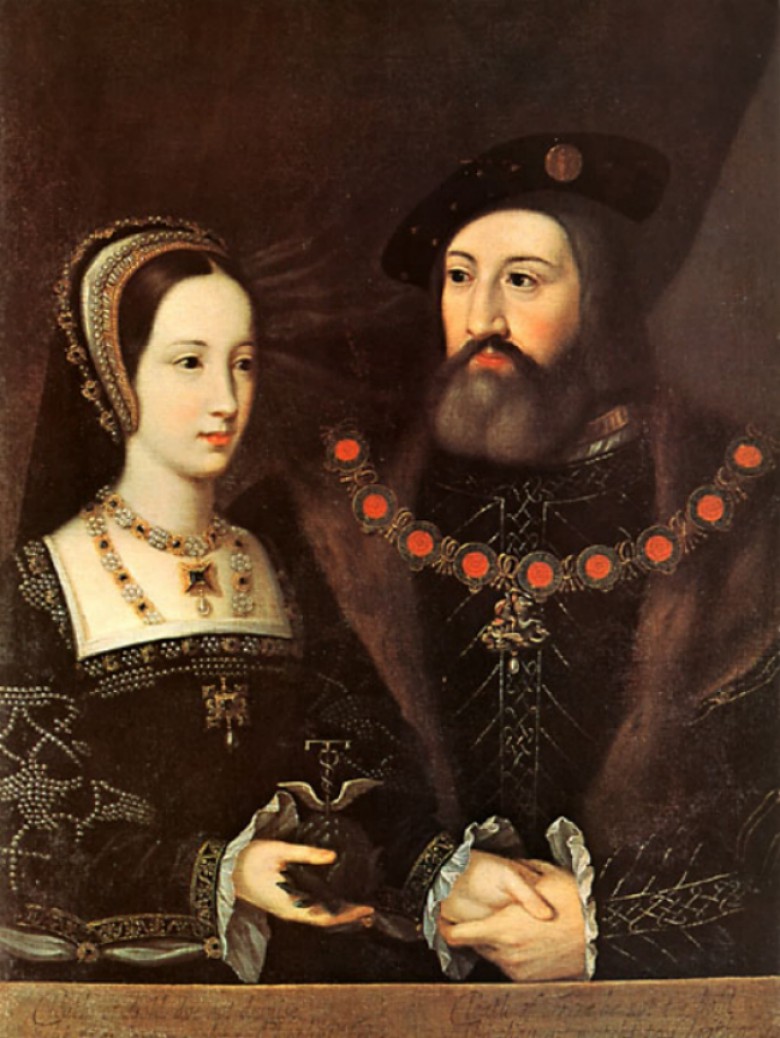 Mary Brandon nee Tudor with her husband Charles Brandon.  Could Mary actually be the sitter for the portrait of Anne?  
Anyway that is my take on it.  You may agree or disagree with me but I do hope that it does lead to some taking an extra careful look at historic portraits in future and not taking 'experts' words for it.  Because there really is no point to using a misidentified portrait in place of the actual real thing or even because a portrait of a certain person does not actually exist.  
1) Anne Boleyn regains her head. Art History News.  John Rowlands
IF YOU LIKED THIS POST YOU MIGHT ALSO LIKE
ST MARY'S CHURCH, FAIRFORD: TUDOR ROYAL PORTRAITS
The Eton Wall Paintings – A Portrait of Queen Anne Neville
Canterbury Cathedral and the Royal Window
Cardinal John Morton's Tomb Canterbury Cathedral
Those Mysterious Childrens Coffins in Edward IVs Vault
The English Medieval Cathedral